Incident Response Tools

Any discussion of incident response deserves a close look at the tools that you'll need for effective incident detection, triage, containment and response. We'll cover the best tools for each function, we'll share resources for how to learn how and when to use them, and we'll explain how to determine the attack source. That way, you'll know the right decision to make at each stage of the investigation.
The Three A's of Incident Response
In order to be effective in defending your company's network, you'll need the right Ammunition, you'll aspire to identify proper Attribution, and you'll focus on increasing Awareness as a way to reduce the volume and impact of cyber incidents on your company. Still not clear on the A's? Read on...
Ammunition: Most incident responders will want to spend most of their time here, downloading and customizing incident response tools - open source as well as proprietary. Why? Because it's fun, and that's what cyber geeks tend to like to do… code. We'll mostly cover open source incident response tools in this chapter, and we'll also use the OODA loop framework from Chapter Two so you'll know when to use which tool and why.
Attribution: Understanding where an attack is coming from can help you understand an attacker's intention as well as their technique, especially if you use real-time threat intelligence to do so. We'll cover the basics of attribution, and include some free and open resources to keep you updated on who might be attacking your company based on the latest collaborative threat intelligence.
Awareness: The most fundamental security control is an educated and aware user. While we plan to go deep into incident response training in the next chapter, in this chapter we'll cover some of the highlights you'll want to consider as you update your security awareness program. The biggest takeaway here is that every incident should be examined as a way to improve your overall security program, with awareness as a key part of that.
Incident Response Tools & the OODA Loop
Disclaimer: Our preference is for open source incident response tools, and so we've provided recommendations on some of the best open source options. Keep in mind that your mileage may vary. In some cases, you may need to look at proprietary options for certain capabilities. That said, you'll have to go somewhere else for recommendations on vendor tools (unless they're built by aliens, in which case, you're in the right place).
For a refresher on the OODA loop: check out Chapter Two. Developed by US Air Force military strategist John Boyd, the OODA loop provides an effective framework for incident response.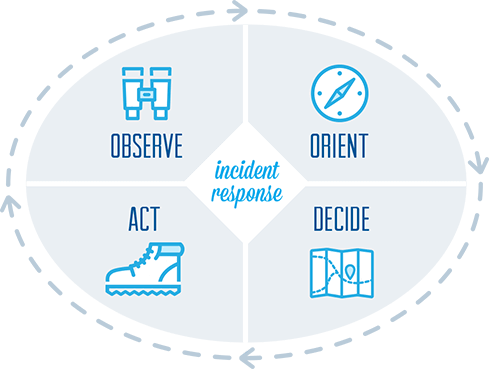 Observe:
Use Security Monitoring To Identify Anomalous Behavior That May Require Investigation.
Orient:
Evaluate What's Going On In The Cyber Threat Landscape & Inside Your Company. Make Logical Connections & Real-Time Context To Focus On Priority Events.
Decide:
Based On Observations & Context, Choose The Best Tactic For Minimal Damage & Fastest Recovery.
Act:
Remediate & Recover. Improve Incident Response Procedures Based On Lessons Learned.
* If you haven't written a corporate security policy yet, and need assistance, you can contact a few associations for free resources and guidance like Educause. In addition to Charles Cresson Wood's Information Security Policies Made Easy, there are also a number of vendors who sell information security policy templates, here's one example.
Identifying Ownership on the Anonymous Internet
One of the most underrated IR tools is one of the most obvious, if you start thinking about infosec like Sherlock Holmes would. Uncovering a mystery for Sherlock started and ended with the motivation and attribution of the criminal under investigation.
Who is this and what do they want?
The challenge for the incident responder is that someone's "identity" on the Internet is exceedingly difficult to determine with any reliability and certainty on your own. IP address and domain ownership aren't terribly easy to interpret, and as you likely know, anyone can easily anonymize their connection through proxies and other means.
That said, there are certain tricks and tools you can deploy to get better insight into who and where these nefarious characters are, and more on what they want and the techniques they deploy to get it.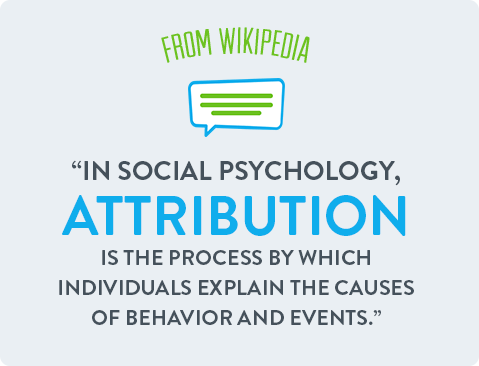 Security is Everyone's Job
Security awareness is sort of like motherhood. It's one of the hardest jobs because it's the most important yet least respected, and if everyone did it properly, we'd likely put an end to war around the world, right?
In all seriousness, every post-incident examination should include an assessment of your overall security posture especially, the security awareness program. Regardless of the root cause of the incident, it's still important to revisit how a more security-savvy employee community could have averted the crisis.
This isn't the part of the guide where we bash dumb users. Seriously. Phishing and spear-phishing campaigns can fool even the most sophisticated users. In fact, an estimated 91% of hacking attacks begin with a phishing or spear-phishing email . This type of tactic fooled a White House employee earlier this year, which is believed to be the source behind a Russian attack against an unclassified system on the US White House's network.
So examine each investigation with the perspective of understanding where your security awareness program could have prevented that incident, or minimized its impact, if only those lessons, guidelines, or tips were shared with your employees ahead of time.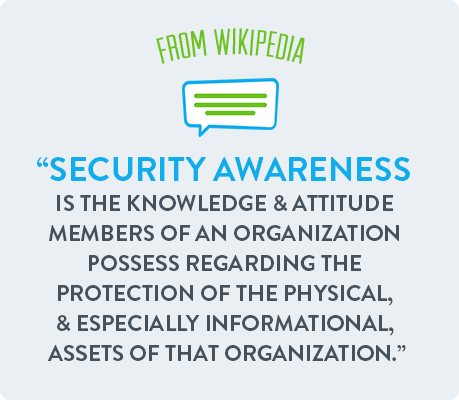 And speaking of security awareness lessons, guidelines, and tips, read more in our next chapter, Incident Response Training >
Navigate Your Journey: