Unified security management for MSSPs
Accelerate your managed security services with AlienVault USM
Why AlienVault USM for MSSPs?
Hundreds of MSSPs worldwide use AlienVault® Unified Security Management® (USM) to build successful managed security and compliance service offerings.
AlienVault USM is the only solution to deliver multiple essential security capabilities plus continuously updated threat intelligence—all in one affordable platform. With it, MSSPs can simplify and centralize threat detection, incident response, and compliance management across their customers' cloud and on-premises environments.
Built to meet the challenges of today's dynamic MSSP market, AlienVault USM is highly scalable, cost-effective, and easy to deploy and manage. It enables MSSPs to rapidly grow their managed security services offerings to meet their customers' security goals while minimizing their own risk and expense.
Discover the Advantages of AlienVault USM for MSSPs:
Deploy a single platform that combines asset discovery, vulnerability assessment, intrusion detection, incident response, endpoint detection and response, SIEM, and log management
Readily expand your managed security offerings to include managed detection and response, compliance management, cloud security monitoring, and much more.
Work efficiently with centralized monitoring and alerting across all customer environments
Stay ahead of emerging threats with continuous, automatic threat intelligence updates from AlienVault Labs, backed by the Open Threat Exchange® (OTX™)
Ease compliance efforts with a large library of pre-built compliance reports for PCI DSS, HIPAA, ISO 27001, and others
Pay as you grow with flexible deployment options and special pricing for MSSPs only
Get 24 x 7 support for you and your customers
Hundreds of MSSPs Trust AlienVault
AlienVault USM Features Built for MSSPs
Unified security essentials
AlienVault USM eliminates the complexity and costs of procuring, integrating, and managing multiple point solutions. With one unified, affordable platform that delivers asset discovery, vulnerability assessment, endpoint detection and response, intrusion detection, SIEM, and log management, MSSPs can focus on growing their businesses rather than dealing with the headaches of managing multiple products.
Cloud security monitoring
Be where your customers are. As companies migrate data, workloads, and services from the data center to the cloud, they need the assurance of continuous security monitoring. AlienVault USM centralizes security monitoring across cloud, on-premises, and hybrid environments, including your endpoints and cloud apps like Office 365, Okta, and G Suite.
Integrated threat intelligence
Managed detection and response (MDR) demands that you always have the latest threat intelligence, which can be challenging without a dedicated security research team. AlienVault Labs works on your behalf to research, analyze, and write ready-to-use threat intelligence, which is delivered continuously and automatically to the USM platform.
A highly extensible AlienApps ecosystem
In addition to the platform security essentials, AlienVault USM enables you to orchestrate and automate threat detection and response across an ever-growing ecosystem of third-party security tools and IT applications, including Palo Alto Networks, Cisco Umbrella, Carbon Black, and many other AlienApps.
An MSSP-friendly architecture
You need a platform that grows with your business. A cloud-hosted solution, AlienVault USM has flexible deployment options for customers of all sizes, and it really scales as needed. With federation capabilities, AlienVault USM gives you the ability to centralize security monitoring for all customer deployments without the issues of multi-tenancy.
Orchestrate and Automate Your Security with AlienApps!
USM Anywhere is a highly extensible platform that leverages AlienApps— modular software components tightly integrated into the USM Anywhere platform that extend, orchestrate, and automate functionality between the built-in security controls in USM Anywhere and other third-party security and productivity tools. With AlienApps, you can:
Collect critical data from your on-premises and cloud infrastructure as well as cloud services
Enrich your data and analyze it using the latest AlienVault Threat Intelligence
Orchestrate and automate your incident investigation and response activities
Gain new security capabilities as new AlienApps are introduced into USM Anywhere as the threat landscape evolves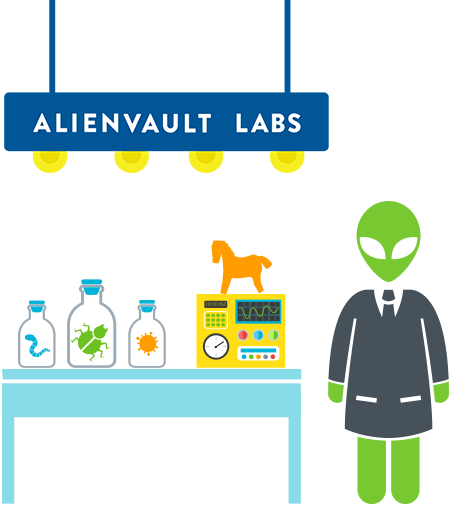 Actionable Threat Intelligence Delivered Directly to You
Most teams don't have unlimited resources to research the latest threats in the wild. That's why the AlienVault Labs Security Research Team works on your behalf to scour the global threat landscape for emerging latest attack methods, bad actors, and vulnerabilities that could impact your security. This team analyzes hundreds of thousands of threat indicators daily and delivers continuous threat intelligence updates automatically to your USM environment, in the form of actionable IDS signatures, correlation rules, remediation guidance, and more. With this integrated threat intelligence subscription, you always have the most up-to-date threat intelligence as you monitor your environment for emerging threat.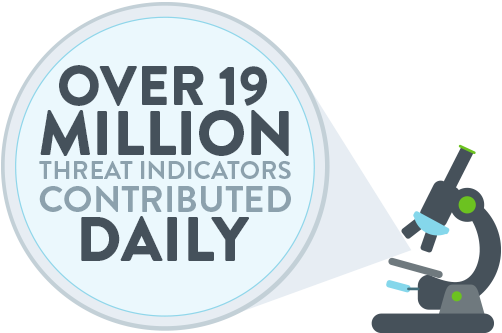 To provide deeper and wider insight into attack trends and bad actors, the AlienVault Labs Security Research Team leverages the power of the Open Threat Exchange® (OTX™)—the world's first truly open threat intelligence community. This community of security researchers and IT professionals collaborate and share millions of threat artifacts as they emerge "in the wild," so you get global insight into attack trends and bad actors that could impact your operations.

Increase the Value of Your MSSP Program with AlienVault USM
Security is difficult and expensive, which is why many organizations turn to MSSPs for help. So, how do you achieve profitability in such a challenging industry? With AlienVault USM, you can accelerate the growth of your security program while also keeping costs low.
Boost your profit margins starting day one
AlienVault's MSSP program is designed to accelerate success and profitability for our partners.
Our discounted MSSP pricing and flexible deployment options enable you to remain competitive in the market and to generate ROI faster with fewer clients.
Our unified platform enables you to rapidly expand your security services portfolio for maximum revenue potential. With a single deployment, you can build the following:
Managed Detection and Response (MDR)
SIEM-as-a-Service / Security-as-a-Service
Compliance Management
Cloud Security Monitoring
Vulnerability Assessment & Remediation
Log Monitoring / Management and much more
Reduce your total cost of ownership
In many ways, AlienVault USM helps to reduce your capital and operational expenses for an overall low total cost of ownership (TCO).
Our unified platform makes it incredibly cost-effective to deploy multiple essential security technologies while saving time and money in integration and procurement.
With a single pane of glass to monitor threats and vulnerabilities across your end customers' environments, you can work more efficiently with fewer headcount.
The AlienVault Labs Security Research Team analyzes emerging threats and delivers ready-to-use threat intelligence to the USM platform continuously, so you don't have to staff your own security research team.
A cloud-hosted platform, AlienVault USM eliminates most of the infrastructure and maintenance costs to you and your end customers for huge cost savings.