AlienVault Product Reviews
Read real product reviews from MSSPs who use AlienVault USM as part of their service offering.
We want to help you feel confident about your buying decision, so we've pulled together hundreds of unbiased, insightful product reviews on AlienVault® Unified Security Management® (USM).
Our goal is simple. We want to provide you with easy access to real-world users of our products and what they have to say about us without the influence of marketing messages and sales spin.


THE TOTAL ECONOMIC IMPACT™ OF ALIENVAULT USM
"If we had to build the platform on our own, it would have cost $500,000 more in resources and delayed our profitability by nearly two and a half years"
---
AlienVault MSSP Customer
"After performing a buy vs build analysis, we quickly realized that the cost of staffing developers for nearly 10 open source products would be costlier than AlienVault's unified security solution."
---
AlienVault MSSP Customer
"We deployed AlienVault to a customer environment and in 15 minutes we identified command and control messaging and lack of patching in the environment."
---
AlienVault MSSP Customer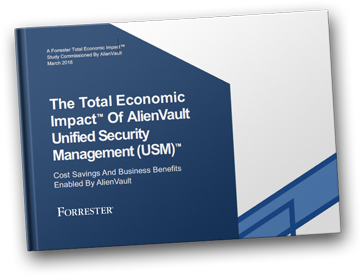 Download the Full Study