As the dust settles in the aftermath of three conferences in three days in London, a lot of tired feet, aching backs and hotel exits emerge.
However, the blisters and pain-killers were definitely worth it as AlienVault was named the best SME Security Solution at the 2015 SC Awards, Europe as well as being recognised for Best SIEM Solution.
But that wasn't all the silverware we collected for the trophy cabinet. I myself, as AlienVault Security Advocate won two European security blogger awards as the most entertaining blogger and best video blogger.
Well done to @J4vv4D on a well deserved win pic.twitter.com/zJGsXGY3Wc

— Quentyn Taylor (@quentynblog) June 3, 2015
We also set out to share our stories with as many security professionals as we could over the three days. Like clockwork, our brave aliens Garrett Gross and Barry O'Meara presented our on USM and OTX 2.0 beta.
Thanks to everyone who stopped by the stand this week! #InfoSec15 pic.twitter.com/nZEcnnfYf7

— AlienVault (@alienvault) June 5, 2015
Our CEO Barmak Meftah delivered a well-received talk at InfoSec discussing threat information sharing in the retail industry.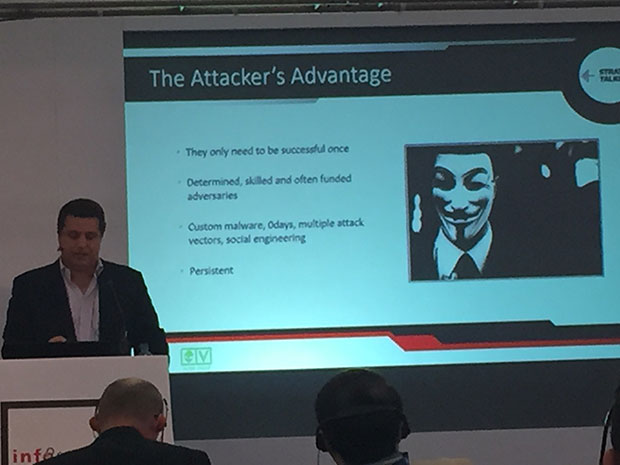 Not wanting to neglect the other events, I presented a talk at BSides London drawing on my early career experiences entitled, "My love-hate affair with security operations".
After "The Hoff" there can only be @J4vv4D "PCI-DSS, the Darth Vader of compliance regimes" pic.twitter.com/AFXEwAOLbP

— Shan Lee (@secwaza) June 3, 2015
Wrapping up the week of talks, I was honoured to have been invited to speak at RSA Unplugged which was set at the picturesque Kensington roof garden where I presented on the topic of insider threats.
@J4vv4D tackles the topic of insider threat at #RSAC Unplugged pic.twitter.com/Xbv91JRbcT

— brittaglade (@brittaglade) June 4, 2015
Each conference bought its own flavour - offering something to attendees of all tastes. Infosec bought most vendors under one roof whilst BSides London is managed to capture the essence of the security community. RSA was by comparison a more subtle affair, in an intimate setting with the focus being on the talks and participant networking.
But conferences are just facilitate - it's the people that make the experience and we were fortunate enough to meet some amazing people over the week - who shared our enthusiasm for high-fives.