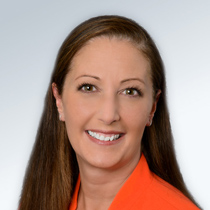 Alicia Dietsch
VP, Marketing
---
Alicia has been part of AT&T's Business Sales and Marketing team since 1991, serving in a number of highly visible and strategic roles. Her long history of leadership is characterized by concrete performance, a keen analytical approach and imaginative thinking.
In 2019, Alicia was appointed Vice President, Cybersecurity Marketing & Enablement where she is responsible for advancing AT&T as a cybersecurity brand, driving customer adoption of AT&T's cybersecurity solutions among business customers of all sizes, and enabling AT&T's sales resources to successfully position AT&T Cybersecurity products and solutions.
Her broad leadership experience includes serving as the Chief of Staff for AT&T's president of Business Sales and on the integration team during the SBC/AT&T merger before spending nearly a decade building the Marketing Communications practice for AT&T Business. Alicia was most recently the Vice President of Channel Marketing for small and midsize businesses.
In 2013, Alicia was selected as one of the 25 Best Marketers by BtoB Magazine and has been recognized twice by CRN as one of the Power 100: Most Powerful Women of the Channel. She holds a Bachelor of Science degree in marketing from Lehigh University and lives with her husband in North Texas.