I interviewed Rick Stiffler, our Director of Training Delivery at AlienVault, to find out more about his experience and perspectives. I've taken the AlienVault USM for Security Engineers course from Rick, and attained my ACSE certification. I got to know more about him in the process and wanted to share a more personal side of Rick with all of you.
Q: Tell me about yourself.
A: I grew up in Los Angeles and married my high school sweetheart. We weren't born in Texas, but got here as soon as we could! We have two sons, one who's a network security engineer and another who is a geologist and two grandchildren. We have a ranch where we raise registered Angus cows.
Here's a picture of my grandson with one of the cows.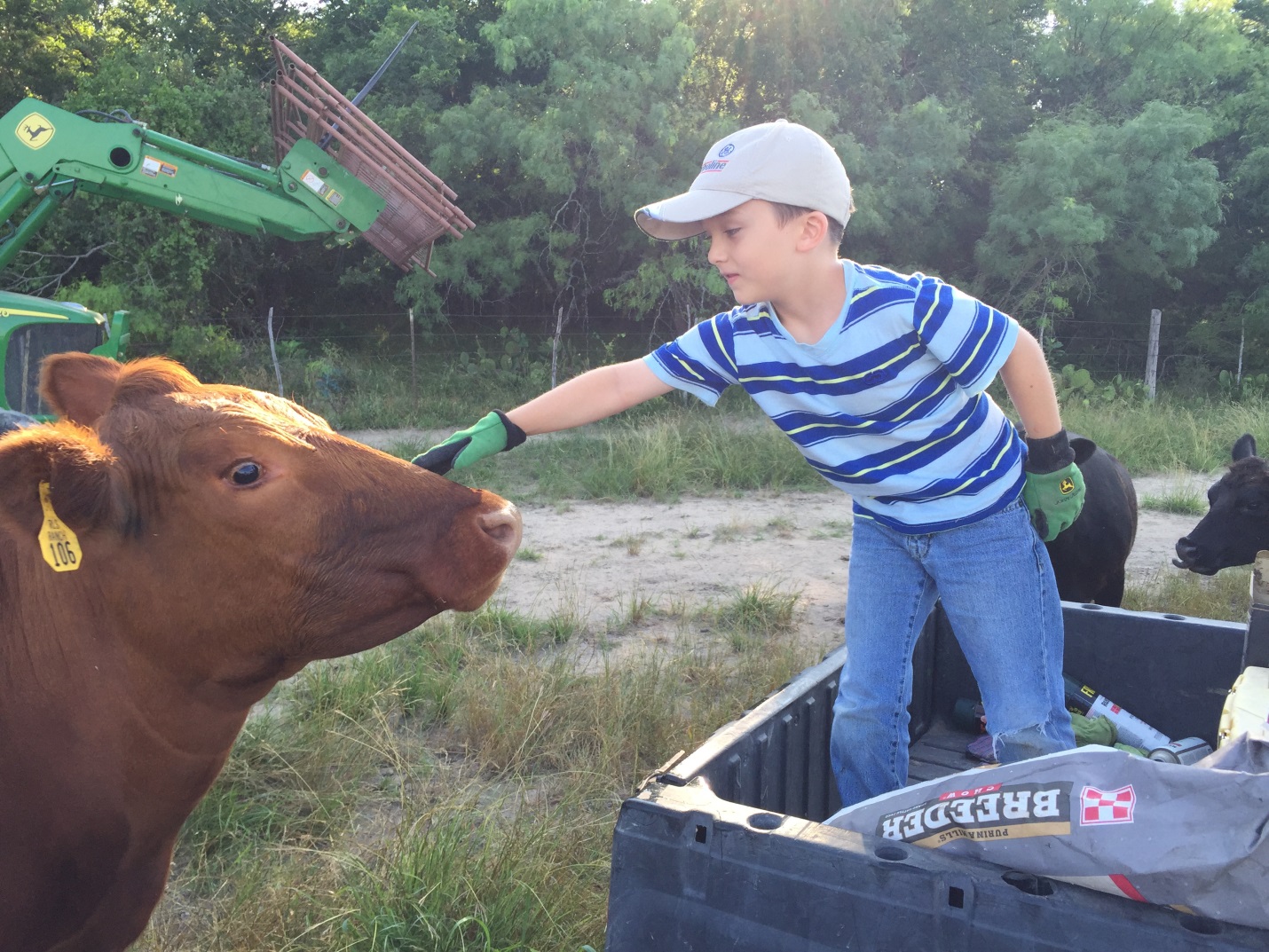 Q: What about your career experience?
A: I have over 30 years of experience providing security related technical training, both in the military and corporate environment. I have worked at the National Security Agency, US Air Force Information Warfare Center, WheelGroup Corp. and Cisco Systems. I have a BS in Psychology and certified as an Education and Training Officer by the National Cryptologic School, NSA. I spent 21 years in military intelligence assignments all over the globe and 13 years at Cisco Systems. I've been with AlienVault one year.
Q: How did you get into Training as a job?
A: I was assigned to Goodfellow Air Force Base in San Angelo, Texas in 1984 when I became the instructor for intelligence analysis. I was teaching soldiers how to analyze foreign communications.
Q: What's different about AlienVault compared to other places you've worked?
A: The energy of the company and the unbelievable skills of those I get to work with. It reminds me of a startup where I worked in 1998. The energy is contagious, for sure.
Q: I've heard a lot about the new ACSE exam – why did AlienVault change the program?
A: The new ACSE exam is designed and built using industry-standard psychometrics, which is a science that lets us build better questions to test knowledge and skills. We also require that the test be taken only at proctored testing facilities. We developed the new exam by working with AlienVault experts, including AlienVault people as well as third parties and customers.
Q: How do you suggest people prep for the ACSE training and test?
A: Begin by reviewing the ACSE Blueprint, which provides guidance regarding the topics on the exam and their relative weight. Then, if you haven't already done so, consider taking our 5-day AlienVault USM for Security Engineers class. It's the ideal way to acquire the skills you'll need on the job and for the exam. Come to the training with an inquisitive mind and be prepared to dive deep into the product. Finally, practice! Hands-on practice with AlienVault USM is essential to success on the exam.
We have a newly refreshed Documentation Center that has all kinds of educational resources. We also have a ton of meaty technical webcasts available. Ask questions in those webcasts – there are real live engineers doing them that can answer questions! Some people have misconceptions about the ACSE – you don't really need to be a Linux guru or know how to write regular expressions in order to pass the test.
Q: What kind of feedback do you get on the class?
A: We take customer feedback very seriously. Each student is provided a course survey where we track not only NPS scores, but include student feedback into future revisions of the courseware. I read the feedback closely. Some interesting comment trends I've seen:
OSSIM users, who've used the open source product for years, are astonished to learn everything the commercial product can do.
Brand new users who are amazed at the depth and breadth of our solution
Appreciation for the network visibility people are able to have with USM. They talk about the comprehensive view of activities in the network that is now available to them.
Q: What does the new ACSE certificate and logo look like?
A: Here's a picture of my certificate, which I display prominently in my office.